Recognition and Reward
Nicholas Hall Awards - 2018 Winners
With a record number of entries for our 2018 awards, we were delighted to hold a convivial Awards Dinner in sunny Barcelona on the evening of 19th April, thanks to our Awards Dinner sponsors Medical Brands.
As usual, we presented 3 Awards celebrating excellence in marketing and creativity over the past year – the Worldwide Marketing Award that honours the most innovative global OTC marketing campaign, this award is sponsored by OTC Newsflash. European New Product of the Year Award as sponsored by our OTC New Products Tracker, and finally The Colin Borg Creative Award which showcases the best in European OTC advertising, as sponsored by our OTC DASHBOARD – this award is particularly resonant as it was voted for by conference delegates earlier today.
Amongst the fine food and company, we were pleased to announce the following results: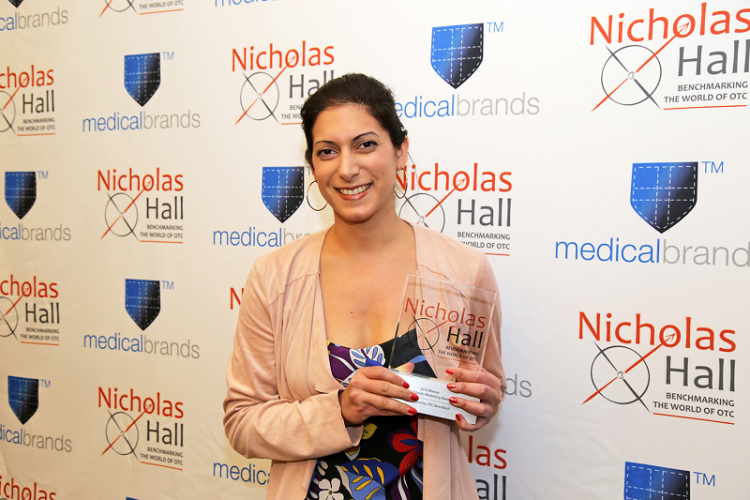 The Most Innovative Global OTC Marketing Campaign Award 2018

For the Worldwide Marketing Award, a special mention went to Wort & Bild for their 'Thank You Pharmacy Campaign', a well-devised campaign to emphasise the importance of the pharmacy to German consumers, and Mundipharma for a truly innovative "takeover campaign" to promote Betadine at Singapore's Changi Airport.
3rd Place was awarded to Hexal's MometaHEXAL by HEXAL Germany, the first mometasone Rx-to- OTC switch in Germany, which established a strong presence in the market
2nd Place went to Infacol by Teva UK as submitted by Orbital Media – this was a low budget campaign with high long-term growth potential, achieving new approved indications from consumer responses and avoiding huge clinical trial costs.
1st place went to Sinutab by Johnson & Johnson Portugal – a new local Rx-to-OTC switch backed by a very good 360 campaign, which was reflected in strong early results; this ultimately reflects J&J's new energy in self care
Stephanie Hadjijoseph from J&J collected this award.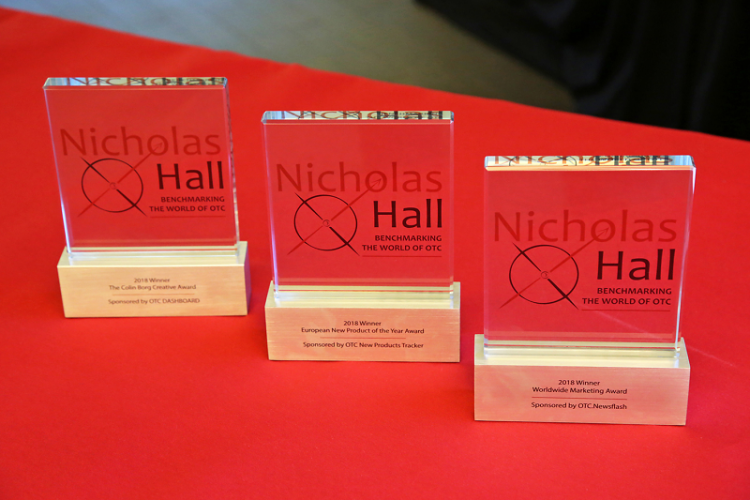 The European New Product of the Year Award 2018
Next we turned to the European New Product of Year Award – our second place went to Hascovir Control by Hasco-Lek Poland, the Rx-to-OTC switch of aciclovir tablets.
Ultimately 1st place was given to Maloff Protect by Glenmark, an innovative switch for malaria prevention, creating a totally new OTC category.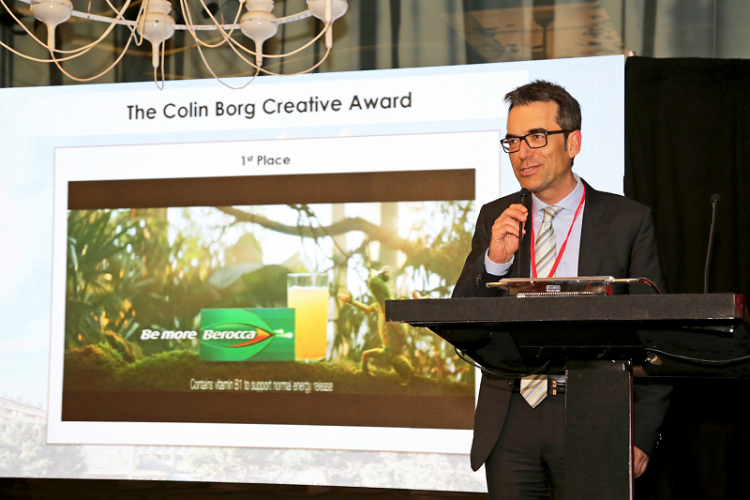 The Colin Borg Creative Award 2018

For our final award, The Colin Borg Creative Award, delegates were shown a reel of eight campaigns and voted for these during our morning session.
Third place was awarded to Algovir from Hermez Arzneimettel, a comical campaign in which a man's work colleagues are blown away by his sneezing.
Second place went to BioGaia's Reuteri Gotas, a campaign in which a baby is crying and keeping the parents awake, then the baby is sleeping silently after 5 drops of Reuteri Gotas.
The winner was Bayer's Berocca, an ad in which a CG animated chameleon dances along a branch past a second chameleon with the tagline "Be More Berocca."