Recognition and Reward
Nicholas Hall Awards - 2016 Winners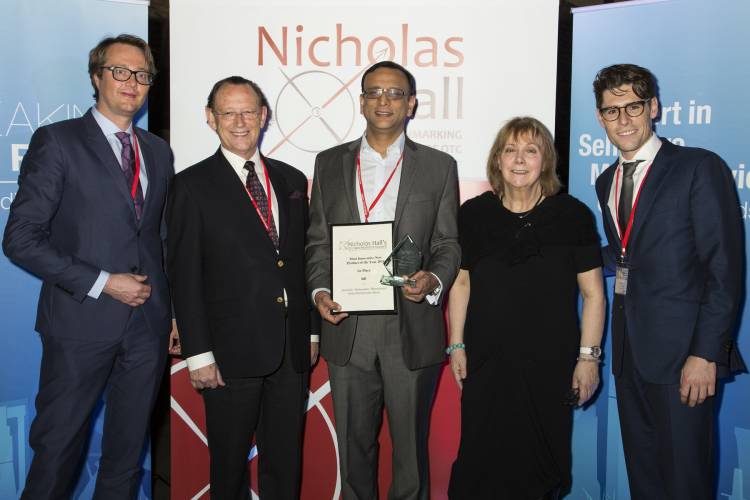 Most Innovative European New Product of the Year Award 2016

Winner: Strepsils Flurbiprofen Spray (RB, Europe)
2nd place: Medusicalm (Martiderm)
Joint 3rd place: Manti Fresh! (USP Zdrowie, Poland) & Mute (Rhinomed, UK)
Nina Stimson, Executive VP at Nicholas Hall & Company, was on hand to deliver the award for Europe's Most Innovative New Product of the Year. Beginning with a high commendation for the Doliprane pure OTC range in France, launched by Sanofi in October 2015, Nina stressed that this is a bold and exciting move for a brand that has been traditionally heavily reliant on Rx reimbursed sales.
In joint 3rd place came Manti Fresh! antacid gum, from USP Zdrowie in Poland, and Rhinomed's Mute anti-snoring medical device, which rolled out in the UK in autumn 2015. Promotion for the former, registered as a dietary supplement, targets a younger demographic than traditional antacid advertising, highlighting that Manti Fresh! offers the strength of a tablet and the freshness of gum via its two-layer technology. The latter impressed the judges with its discreet ability to reduce snoring, and A+P activity includes humorous ads on social media and radio telling consumers it is time to "hit the mute button". Olympics legend Sir Steve Redgrave acts as brand ambassador.
No.2 spot went to Medusicalm (MartiDerm) jellyfish sting reliever. Developed initially by a pharmacist in Spain for use by his friends and family, the unidose powder sachets come with gloves for safe application and the marketer stresses that its natural and effective formula of papain and allantoin means that it is safe for use among babies and young children. The product's handy format is emphasised in A+P reminding consumers to carry it with them in their beach bag.
However, RB's Strepsils Flurbiprofen Spray (marketed as Strepfen, Dobendan Direkt and Benactiv Gola in other markets) was awarded the top prize, recognised as a worthy winner as it is the first OTC flurbiprofen product in a convenient spray format. Rolled out across much of the region in H2 2015, it joined the well-established sore throat lozenges and has been backed by A+P support claiming that it offers quick and direct pain relief and anti-inflammatory action for up to 6 hours. A delighted Akhil Chandra, Global Category Director Analgesics at RB, collected the award.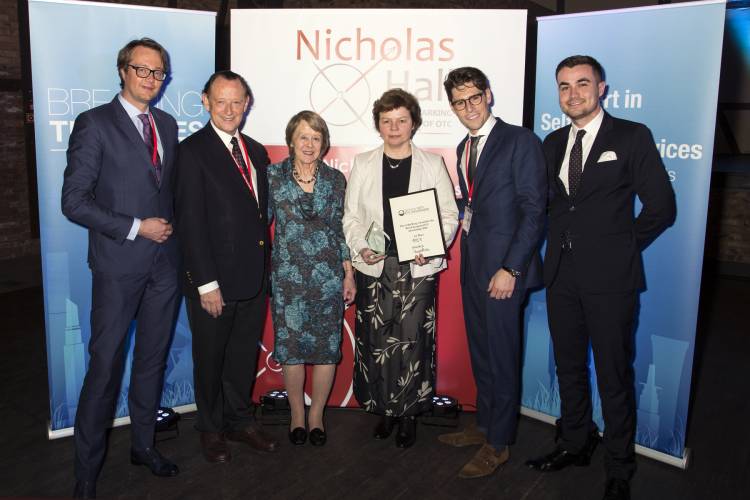 The Colin Borg Award for the Best European OTC Advertising 2016

Winner: Wick VapoRub (PGT / P&G, Germany)
2nd place: Theraflu (GSK)
3rd place: Pelavo (USP Zdrowie, Poland)
A+P campaigns for cold & flu brands proved popular with delegates for the Colin Borg Award for the Best European OTC Advertising. USP Zdrowie's campaign for Pelavo cold & flu remedy came in 3rd place; positioned as a natural paediatric product, the ad features a group of children fighting off germs, before Pelavo syrup relieves symptoms including fever, runny nose, cough and sore throat. Delegates gave GSK's Theraflu outdoor Theraflu Thermoscanner ad campaign 2nd place. Claimed to be a world first, this featured thermal imaging technology at public locations such as bus stops, to determine whether consumers had a fever, which may be a symptom of cold & flu.
However, the strong emotional element saw PGT / P&G's HugYourDad campaign for Wick VapoRub in Germany claim top spot. The moving ad features home videos of fathers hugging their young sons, before asking why this stops as boys grow up. The campaign ends with the tagline, "Die Kraft der Beruhrung" (The power of touch), inviting fathers and sons to embrace. Colin Borg's widow, Mandy, was at the Awards Dinner to present the prize to Anna Sacha, Global Head, Consumer & Market Knowledge at PGT Healthcare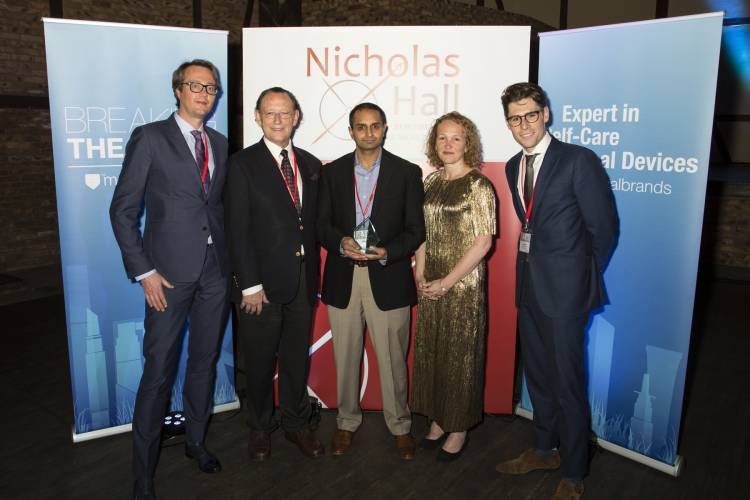 The Most Innovative Global OTC Marketing Campaign 2016

Winner: Flonase Allergy Relief (GSK, USA)
2nd place: Nictoex (Cipla, India)
Joint 3rd place: Aspirin (Bayer, Turkey) & Neurobion (Merck, India)
The Most Innovative Global OTC Marketing Campaign proved a tricky category to whittle down, with the judges giving special commendation to BI's Naming is Taming campaign for Buscopan antispasmodic,which ran in several markets and successfully broadened the brand's indications. Launched in Q1 2015, this conveyed the message that Buscopan can be used to treat different types of abdominal discomfort, and not just intense pain. The 360 degree campaign included TV ads, POS materials, revamped websites and a presence on Facebook.
Coming in joint 3rd place, Bayer's launch of non-branded consumer website agriyiyen.com (defeat pain) in Turkey was recognised for raising awareness of pain and effective treatment options, and ultimately boosting sales of Aleve, Aspirin and Saridon. Bayer states that more than 1.8mn people in Turkey were searching online for pain treatments every year, with no robust information platform available. Since the launch of the website and accompanying Facebook page, the latter has attracted close to 75,000 likes and Bayer claims that it is the fastest-growing healthcare page on the social network.
Also 3rd was Merck's campaign to support the consumerisation of Neurobion Forte vitamin B brand in India. An adaptive media strategy was used to maximise visibility, with sponsorship of the 2015 Cricket World Cup allowing the brand to reach 45mn consumers. Meanwhile, TV spots, outdoor ads and posters on busses and trams reached close to 20mn consumers, while POS materials helped to trigger purchase. The brand has outgrown the overall vitamin B category in both value and volume terms, despite being among the lowest-priced options available.
Another brand from India claimed 2nd place, this time Cipla's Nicotex (nicotine). The marketer shifted its promotional strategy from an ethical to a consumer- focused campaign in 2015, as the brand was moved to a newly-created Consumer Healthcare subsidiary.
In a category where MNCs have failed to make much impact, the successful campaign for Nicotex invites consumers to "Choose life!", with promotion showing lungs full of life, rather than focusing on the negative impact of smoking. Among the elements of the campaign, Cipla invested in light-up POS materials that helped the brand to stand out in crowded stores, while in-flight sampling helped relieve nicotine cravings in spaces where smoking is banned. In a similarly innovative approach, Nicotex ads ran alongside scenes of smoking in films over the traditional New Year quitting period. In order to encourage consumer engagement, Cipla launched the U QuitSmoking, I Quit a Bad Habit initiative, with family and friends encouraging smokers to quit by giving up a bad habit of their own. This was backed by a mobile app, a quit kit, and celebrity endorsement, among other tools, and the marketer states that over 80,000 consumers have joined the programme on social media. Brand sales in test market Tamil Nadu have grown strongly, while the campaign was extended across India in October 2015.
The top prize however went to GSK's Flonase Allergy Relief (fluticasone 0.05mg) in the US, which was switched from Rx to OTC status in July 2014. With marketing beginning a month before launch in February 2015, consumers could pre-order the product in major drugstore chains, while a video on Walgreen's YouTube channel explained its benefits. TV ads for the brand stress that it tackles the six key inflammatory substances that cause allergy symptoms, while most allergy tablets target only one. A key message in the campaign is that it offers easy access to prescription-strength relief, with ads stating, "This changes everything". GSK claims that pre-orders for Flonase Allergy Relief generated more sales than any other OTC switch, while the brand had garnered over $300mn by end-2015, establishing itself as the leading OTC allergy spray in the US and the No.3 entry overall in the allergy remedies category, according to DB6.